Regular Sponsorship
'Be a Toilet Angel'
There are always kind individuals for the journey to make a better life.
Even nobody appreciate, World didn't know what you did,
You always try best to make a difference.

For the children who are dying because of unsanitary environment where Toilet doesn't exist around,
For the people who are threatened by diseases from polluted water,
We need your good will.
Real power of WTA only comes from You!
Communities

Individuals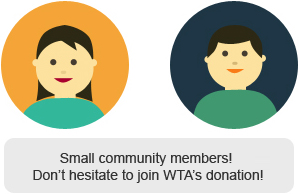 How to Donate
Wire Transfer

- Kookmin 965601-01-430296
- Nonghyup 301-0180-4659-21
- Shinhan 100-031-077150
- Woori 1005-302-831603

* Please contact to the Secretariat if you want international transferring.
Donation Benefits
Toilet Angel Membership
Opportunities to join Toilet culture& education programs in Korea and foreign countries.
Invitation to WTA events
WTA Newsletter
Receipts for Donation
(WTA is an association appointed by government, all of our donator can get receipts for donation.)
Toilet Angel Member
영업지원팀
Once you donate to WTA, you can be a member of Toilet Angel.
Toilet Angel is the name for everyone who dreams better and happy future through the Toilet Equality.

Be a Toilet Sponsor
Sponsored by Inquiry
Contact Number: 82-31-221-4051
E-mail: wta@withwta.org